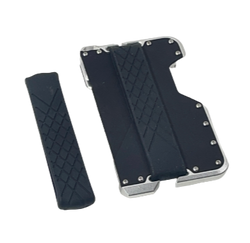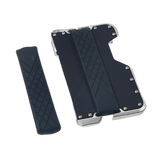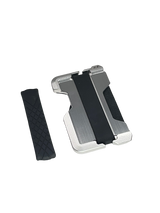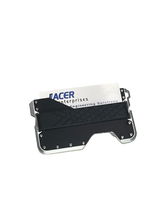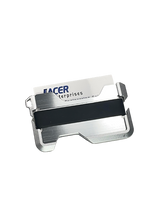 Mad4Metal RFID Blocking Leather Survivalist Style Credit Card Holder Money Clip
Mad4Metal RFID Blocking Leather Survivalist Style Credit Card Holder Money Clip
Protect your identity and keep your essentials organized with the Mad4Metal RFID Blocking Leather and Metal Survivalist Style Credit Card Holder and Money Clip. This sleek and rugged accessory is designed for the modern survivalist, combining powerful RFID blocking technology with a stylish and functional design.

Key Features:

- Premium leather and metal construction for durability and style
- RFID blocking technology protects against electronic pickpocketing
- Compact and slim design for easy pocket storage
- Secure money clip for holding bills
- Multiple card slots for organized storage
- Perfect for everyday use and travel
- Designed for the modern survivalist
Specifications:
Color: Black leather on aluminum frame. 
Thickness: 1" thick fully expanded.
Dimensions: 3.4 in x 2.2 in x .28 in (empty).
Materials:  Leather and aluminum.
 Learn More:
Crafted with premium leather and durable metal, this credit card holder and money clip ensures long-lasting performance and a sophisticated look. Its unique survivalist style adds a touch of ruggedness and adventure to your everyday carry.

The integrated RFID blocking technology provides essential protection against electronic pickpocketing and identity theft. Safeguard your credit cards, IDs, and other personal information from unauthorized scanning, giving you peace of mind wherever you go.

With a compact and slim design, this credit card holder and money clip fits easily into your pocket, making it perfect for both everyday use and travel. The convenient money clip securely holds your bills, while the multiple card slots keep your credit cards neatly organized.

Mad4Metal prioritizes superior craftsmanship and attention to detail, ensuring a product that exceeds expectations. This credit card holder and money clip is built to withstand the rigors of daily use, providing you with a reliable and stylish solution for your essentials.

Upgrade your everyday carry with the Mad4Metal RFID Blocking Leather and Metal Survivalist Style Credit Card Holder and Money Clip. Experience the perfect blend of security, style, and functionality with this must-have accessory. Order now and protect your essentials in style!
Reviews
Shipping
FAQ/Instructions
All in house custom made items are stocked in the US and typically ship one business day via USPS First Class Mail.
Estimated delivery for drop ship and made to order items will be stated in the product listing.
FAQ
My credit card wallet money clip seems tight and it is difficult to insert credit cards, is this normal? YES - These wallets incorporate an elastic band to sandwich up to 12 credit cards. The band is a bit tight at first but breaks in nicely with just a little use.
Can I use the money clip to clip the wallet onto my belt or sun-visor? NO - the money clip is for holding a reasonable amount of cash only (1/4" Max.). If you use the clip for anything other than holding cash or business cards the clip will break.
Are these products manufactured in the USA? The base units are manufactured to our specifications and imported from China. Units displaying custom graphics are disassembled at our shop and custom CNC engraved here in the USA. Most engraved models are upgraded with brand new 18-8 stainless steel screws.
Can I get replacement parts should some portion of the wallet malfunction or break? YES - we stand behind our products and offer a 30 day money back guarantee. We also reserve the right to send out replacement parts at no cost after the 30 day period!