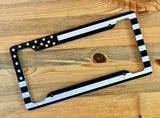 Premium American Flag Metal License Plate Frame - Patriotic Car Accessory
Premium American Flag Metal License Plate Frame - Patriotic Car Accessory - (Single)
Enhance your vehicle's appearance while showcasing your love for the USA with our Premium American Flag Metal License Plate Frame. Crafted with utmost precision and durability, this license plate frame is designed to fit any standard-sized license plate effortlessly.

Featuring a stunning American flag design, this patriotic car accessory is perfect for proud Americans who want to display their national pride in style. Made from high-quality metal, it ensures long-lasting performance and withstands all weather conditions.
 Features:
1. Durable Construction: Our license plate frame is made from premium metal to ensure exceptional durability and longevity.
2. Eye-Catching Design: The striking American flag design adds a touch of patriotism to your vehicle.
3. Universal Fit: Designed to fit all standard-sized license plates, it is easy to install with its user-friendly design.
4. Weather Resistant: Built to withstand harsh weather conditions, this license plate frame maintains its vibrant colors and remains intact.
5. Easy to Install: Simply use the included screws to fasten it securely onto your license plate within minutes.
Specifications:
Material: Metal/Plastic
Finish: Metal Foil Design
Height =  6-1/2" 
Width = 12-1/2" 
Thickness = 3/16"
Weight = 10 oz.