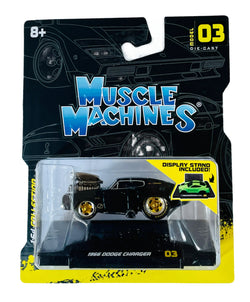 Muscle Machines 1966 Dodge Charger CHASE 1:64 Diecast Car - Classic Collectible Model
Muscle Machines 1966 Dodge Charger CHASE 1:64 Scale Diecast Car - Classic Collectible Model

Description:
Get ready to own a piece of automotive history with the Muscle Machines 1966 Dodge Charger CHASE 1:64 Diecast Car. This meticulously crafted replica of the legendary Charger is a must-have for any diecast car enthusiast or Mopar fan. With its stunning details and compact size, this collectible model will stand out in your display or make a perfect gift for car enthusiasts.
Bullet Points:
Highly Detailed: This 1:64 scale diecast car meticulously captures the sleek and powerful design of the iconic 1966 Dodge Charger.

Authentic Design: Every detail, from the distinct grille to the Dodge Charger badging, is faithfully recreated for an authentic representation.

Precision Diecast Construction: Crafted with precision from high-quality diecast metal, ensuring durability and accuracy.

Compact Size: At 1:64 scale, this model is the perfect size to fit into any diecast car collection or display case.

Realistic Paint Finish: The glossy paint finish adds a touch of realism, making the Charger model stand out in any showcase.

Rolling Wheels: Equipped with rolling wheels for smooth movement, giving you the freedom to showcase the car in action.

Collector's Item: Limited production run - be one of the few to own this exclusive 1966 Dodge Charger diecast car.

Gift-Ready Packaging: The model comes in attractive and secure packaging, making it an excellent gift for car enthusiasts of all ages.

Great Addition to Collections: Perfect for adding a touch of classic muscle car history to your diecast car collection.
Capture the spirit of the legendary 1966 Dodge Charger with this meticulously crafted 1:64 scale diecast model. Don't miss out on the chance to own this iconic muscle car!