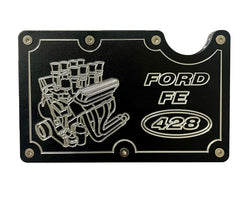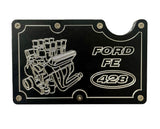 Mens Credit Card Wallet Slim Metal Aluminum RFID Blocking 428 Ford RFD017
Mens Credit Card Wallet Slim, Metal Aluminum RFID Blocking, 428 Ford
Material: Aluminum & Stainless Steel
Mad4Metal Aluminum credit card wallet money clips have been a labor of love and frustration to finally offer you a design that will not only protect your identity but will also be durable enough to withstand daily use without breaking either the elastic or the money clip portion of the wallet. We actually disassemble the units here in the US and upgrade the necessary components to make these work as good as they look.  
Mad4Metal strives to provide the highest quality products available. We design, build and test our products here in the USA to ensure our customers get that one of a kind look without sacrificing dependability. Our product range is continually growing and we know what it takes to build "craftsmen style" products that look as good as they work. 
 Features:
High end stainless steel money clip portion of the wallet can be easily removed to be used as a stand alone money clip.

Credit card wallet security: Safely and securely carry cash, credit cards, drivers license, ID's, hunting and fishing licenses in a sexy, slim, RFID blocking credit card wallet money clip.
Credit card wallet with money clip holds up to 12 credit cards plus up to ¼" of folded cash.
Credit card wallet small, fits easily into any pocket.
Mens credit card wallet money clip is a maximum of  1-1/2" thick when fully expanded.
Credit card wallet with RFID protection blocks RFID signals and prevents undetected scanning and theft of your confidential information.
Specifications:
Color: Mens credit card wallet is black anodized aluminum with upgraded 18-8 stainless steel screws. 
Thickness: Credit card wallet mens is a maximum of  1-1/2" thick when fully expanded.
Dimensions: Credit card wallet slim measures 3.4 in x 2.2 in x .28 in (empty).
Materials:  mens credit card wallet money clip is manufactured from premium carbon fiber, stainless steel and aircraft grade aluminum.
Quality:  Mens credit card wallet is designed and manufactured to Mad4Metal's proprietary quality standards. 
Reviews
Shipping
FAQ/Instructions
All in house custom made items are stocked in the US and typically ship one business day via USPS First Class Mail.
Estimated delivery for drop ship and made to order items will be stated in the product listing.
FAQ
My credit card wallet money clip seems tight and it is difficult to insert credit cards, is this normal? YES - These wallets incorporate an elastic band to sandwich up to 12 credit cards. The band is a bit tight at first but breaks in nicely with just a little use.
Can I use the money clip to clip the wallet onto my belt or sun-visor? NO - the money clip is for holding a reasonable amount of cash only (1/4" Max.). If you use the clip for anything other than holding cash or business cards the clip will break.
Are these products manufactured in the USA? The base units are manufactured to our specifications and imported from China. Units displaying custom graphics are disassembled at our shop and custom CNC engraved here in the USA. Most engraved models are upgraded with brand new 18-8 stainless steel screws.
Can I get replacement parts should some portion of the wallet malfunction or break? YES - we stand behind our products and offer a 30 day money back guarantee. We also reserve the right to send out replacement parts at no cost after the 30 day period!