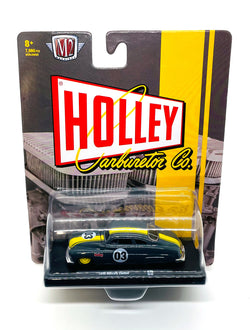 M2 Machines 1949 Mercury Custom Auto Drivers R72 Grey Yellow Holley Die Cast 1:64
M2 Machines 1949 Mercury Custom Auto Drivers R72 Grey Yellow Holley Die Cast 1:64
Discover timeless elegance with the M2 Machines 1949 Mercury Custom from the Auto Drivers R72 series, elegantly presented in Grey Yellow with Holley branding. This meticulously crafted 1:64 scale die-cast model captures the fusion of classic design and automotive history.
Key Features:
Intricately detailed 1:64 scale model of the 1949 Mercury Custom
Impeccable attention to detail highlights the Mercury's iconic design
Durable die-cast construction ensures authenticity and longevity
Sophisticated Grey Yellow color scheme showcases its unique character
Holley branding adds a touch of authenticity and vintage charm
Part of M2 Machines' prestigious Auto Drivers R72 series
Intricately designed interior, exterior, and undercarriage
Realistic rubber tires enhance the model's authenticity
Presented in a collector's display case for safekeeping
Officially licensed by M2 Machines and Holley
Ideal for collectors, enthusiasts, and vintage car aficionados
Elevate your collection with the enduring allure of the M2 Machines 1949 Mercury Custom in Grey Yellow with Holley branding. This meticulously crafted model car encapsulates the spirit of the Mercury's era, celebrating its unique design with precision. Don't miss out on the opportunity to own a piece of automotive history – order now and relish the enduring beauty of this classic Mercury Custom in a remarkable 1:64 scale replica.
Why Mad4Metals?
We physically inspect and custom package every item we sell at order fulfillment vs. a fulfillment center model of "blindly" shipping uninspected products pre-packaged by the manufacturer. 
We use only new packing materials which consist of corrugated boxes, interior bubble wrap and/or air pillows to make sure your items arrive safe and sound.
We are a small family owned and operated business so the quality of our products and our superior customer service are the life blood of our business. Check out our feedback score. 
We too are car collectors of both full size vintage muscle cars as well as die cast collectable scale models. 
Each scale model die cast car we stock is carefully chosen to represent the best of the muscle car hobby. If we do not think it is cool we won't sell it to our customers!