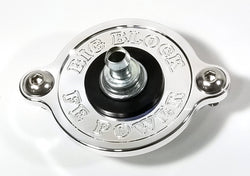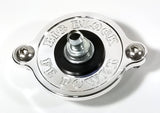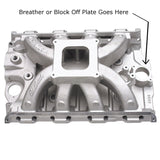 Aluminum Intake Manifold Breather Plate with PCV Kit fits Ford FE Engines - USA
Polished Aluminum Intake Manifold Breather Plate with PCV Kit fits Ford FE Engines - Made in the USA
Product Description:
Upgrade Your Ford FE Engine's Performance and Style with our Polished Aluminum Intake Manifold Breather Plate, complete with a PCV Kit. Crafted with Precision in the USA, this kit is a Testament to Automotive Excellence and American Craftsmanship.
Key Features:
Enhanced Engine Performance: Elevate your Ford FE Engine's performance with our Polished Aluminum Intake Manifold Breather Plate. This kit is designed to optimize airflow and enhance engine efficiency.

Complete PCV Kit: Our kit includes a PCV valve and necessary components for a hassle-free installation, ensuring your engine remains clean and running smoothly.

Craftsmanship Excellence: Proudly made in the USA, this breather plate embodies the precision and innovation that define American manufacturing. Crafted from high-quality polished aluminum, it's a perfect blend of performance and aesthetics.

Effortless Installation: Say goodbye to complex installations. Our kit includes everything you need for a straightforward setup, allowing you to enjoy improved engine performance in no time.
Compatibility: Designed to Fit Ford FE Engines, ensuring a perfect fit and optimal performance.

Material: Premium Polished Aluminum that not only enhances your engine's aesthetics but also withstands the demands of your engine's environment.

PCV Kit: Includes a PCV valve and all necessary components, designed to efficiently manage crankcase pressure and prevent oil blow-by.

Origin: Proudly Crafted in the USA, supporting local craftsmanship and celebrating the spirit of American automotive greatness.

Built to Last: Engineered to Withstand the Rigors of Engine Operation, ensuring long-lasting durability and performance improvement.
Upgrade your Ford FE Engine's performance and appearance in one fell swoop. Enhance your engine's aesthetics and make a statement that resonates with power, efficiency, and a touch of American pride. Order your Polished Aluminum Intake Manifold Breather Plate with PCV Kit for Ford FE Engines today and experience the difference firsthand.
Click "Add to Cart" now and enjoy the satisfaction of improving your engine's performance with American-made excellence!
Material: 6061 Billet Aluminum
Bolts: 4 included
Grommet: 1 included
PCV Valve: 1 included
Mfr PN: M1002 
Mad4Metal intake manifold breather and solid plates are extremely light weight and have been thoroughly leak tested in high performance racing applications where extreme crank case pressure can cause seals to leak. Aluminum does not rust and the polished finish can easily be brought back to its original luster with aluminum metal polish.
Mad4Metal strives to provide the highest quality products available. We design, build and test our parts here in the USA to ensure our customers get that one of a kind look without sacrificing dependability. Our product range is continually growing and we know what it takes to build "craftsmen style" products that look as good as they work. 
Features:
Used to replace the factory intake manifold breather plate. 
Extremely light weight
Includes 2X 1/4-28 x 3/4" 18-8 Stainless Steel BHCS (Stock Intake Manifold)
Includes 2X 5/16-18 x 3/4" 18-8 Stainless Steel BHCS (Aftermarket Intake Manifold)
Includes 1X PCV Grommet 

(Napa 630-1071 PCV grommet)

Includes 1X PCV Valve (NAPA 2-9215 PCV valve. Others will fit the same grommet, check your application)

100% designed and manufactured in the USA
Specifications:
Material: 6061 aircraft grade billet aluminum
Finish: Polished - machine marks visible
Fasteners:

 

2X 1/4-28 x 3/4" 18-8 Stainless Steel BHCS

Fasteners:

 

2X 5/16-18 x 3/4" 18-8 Stainless Steel BHCS

Grommet:  0.718" ID
PCV Valve: 0.749" OD (grommet side) x 0.444"  Bell OD Hose Barb
Plate Height =  2-11/16" (2.675)
Plate Width = 2-5/8" (2.635)
Plate Thickness = 15/32" (0.449)
Weight = 3.8 oz including fasteners. 
Application:
FORD FE Series Engines 352, 360, 390, 410 (Merc), 427, 428
Model Years 1964 - 1976
Reviews
Shipping
Installation Instructions
All in house custom made items are stocked in the US and typically ship one business day via USPS First Class Mail.
Estimated delivery for drop ship and made to order items will be stated in the product listing.
Block Off Plate Installation Instructions:
1. Thoroughly clean the engine block mounting surface and the block off plate so that both are free from grease, debris or other contaminates.
2. Use BrakLeen (Red Can) or equivalent as final cleaning step to prepare both surfaces.
3. Apply a thin layer of FORD Motorcraft Ultra-Gray Silicone Sealant or Hi-Temp Silicone Sealant (EGR Block off only) or equivalent to the back of the block off plate in contact with the sealing surface of the engine block.
4. If the bolt threads protrude into the crank case (i.e. are not blind tapped holes) apply a small amount of silicone sealant to the bolt threads.
5. Install block off plate to the engine and torque bolts per engine manufacture's recommendations.
(NOTE: Gaskets are not provided with the kit nor are they recommended. Two bolt mounting systems typically associated with mechanical fuel pumps, EGR valves and Intake manifold breather plates were not optimally located to provide even gasket compression around the sealing surface which is why they invariably leak. If you choose to use a gasket to seal a block off plate, apply a thin layer of silicone to both sides of the gasket.