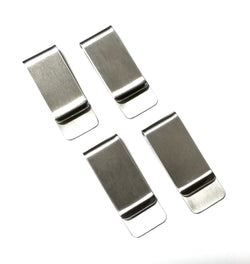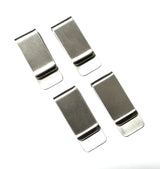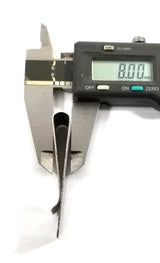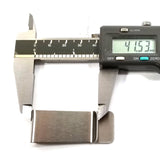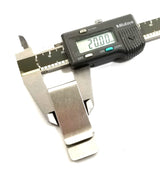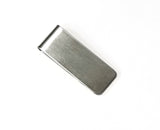 Lot of 4 Stainless Steel Money Clip Card Holder Metal Money Clip Card Holder USA
Stainless Steel Money Clip Card Holder Metal Money Clip Card Holder USA
Material: Stainless Steel
Finish: Brushed
Mfr PN: MC-5020-SS-04
Qty in Lot: 4 money clips
Mad4Metal stainless steel money clips are durable enough to withstand daily use without bending or breaking. Money clips are manufactured to our proprietary quality standards and are stocked in the USA for immediate shipment.    
Mad4Metal strives to provide the highest quality products available. Our product range is continually growing and we know what it takes to build "craftsmen style" products that look as good as they work. 
 Features:
Dimensions: 2" x ¾" x 5/16" (50mm x 20mm x 8mm)
Slim minimalist design
Small thin design easy to carry in small pockets
Great for ditching that George Costanza wallet
Do you really need to haul those concert ticket stubs around from 1982?
Specifications:
Length: 2" (50mm)
Width: ¾" (20mm)
Thickness: 5/16" (8mm)
Base Metal Thickness: 1/32" (0.8mm)
Clip Length: 1-5/8" (41.5mm)
Finish: Shiny Brushed Stainless Steel
Reviews
Shipping
FAQ/Instructions
All in house custom made items are stocked in the US and typically ship one business day via USPS First Class Mail.
Estimated delivery for drop ship and made to order items will be stated in the product listing.
FAQ
My credit card wallet money clip seems tight and it is difficult to insert credit cards, is this normal? YES - These wallets incorporate an elastic band to sandwich up to 12 credit cards. The band is a bit tight at first but breaks in nicely with just a little use.
Can I use the money clip to clip the wallet onto my belt or sun-visor? NO - the money clip is for holding a reasonable amount of cash only (1/4" Max.). If you use the clip for anything other than holding cash or business cards the clip will break.
Are these products manufactured in the USA? The base units are manufactured to our specifications and imported from China. Units displaying custom graphics are disassembled at our shop and custom CNC engraved here in the USA. Most engraved models are upgraded with brand new 18-8 stainless steel screws.
Can I get replacement parts should some portion of the wallet malfunction or break? YES - we stand behind our products and offer a 30 day money back guarantee. We also reserve the right to send out replacement parts at no cost after the 30 day period!