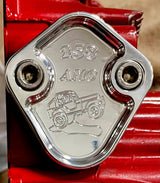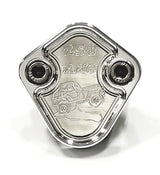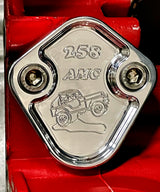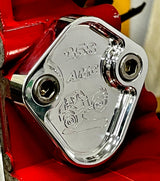 Mad4Metals Aluminum CNC Fuel Pump Block Off Plate fits Jeep CJ5 CJ7 258 Engine
Mad4Metals Aluminum CNC Fuel Pump Block Off Plate fits Jeep CJ5 CJ7 258 Engine
Upgrade your Jeep 258 Engine with the Mad4Metals 6061 Polished Aluminum CNC Fuel Pump Block Off Plate. Engineered with precision using premium-grade 6061 aluminum, this block off plate offers unmatched durability and performance.
 Features:
- Premium 6061 aluminum construction for durability and corrosion resistance
- CNC-machined for precise fit and secure seal
- Polished surface for an attractive finish
- Easy installation with included hardware
- Compatible with Jeep 258 engines
- Enhances engine performance and functionality
-100% Made in the USA
Specifications:
Material: 6061 aircraft grade billet aluminum
Finish: Polished - machine marks visible
Fasteners: 2X - 5/16", 18-8 stainless steel socket head cap screws
Height =  2-11/16" (2.675)
Width = 2-5/8" (2.635)
Thickness = 15/32" (0.449)
Weight = 1.8 oz
Learn More:
Designed specifically for Jeep 258 engines, this fuel pump block off plate ensures a proper fit and seamless installation. The CNC-machined construction guarantees precise measurements and a secure seal, eliminating the risk of fuel leaks or engine damage.

Crafted from 6061 aluminum, known for its exceptional strength and corrosion resistance, this block off plate will withstand the toughest conditions. Its polished surface adds an attractive finish, enhancing the overall aesthetic of your engine compartment.

Installing the Mad4Metals fuel pump block off plate is a breeze, thanks to its accurate design and included hardware. Simply replace the fuel pump with this plate to block off the opening, ensuring a smooth and efficient operation of your Jeep 258 Engine.

With Mad4Metals, you can trust in our commitment to quality. We prioritize superior craftsmanship and attention to detail, resulting in products that exceed expectations. Rest assured that our fuel pump block off plate will deliver reliability and performance, enhancing your Jeep's engine functionality.

Mad4Metal fuel pump block off plates are extremely light weight and have been thoroughly leak tested in high performance racing applications where extreme crank case pressure can cause seals to leak. Aluminum does not rust and the polished finish can easily be brought back to its original luster with aluminum metal polish.

Mad4Metal strives to provide the highest quality products available. We design, build and test our parts here in the USA to ensure our customers get that one of a kind look without sacrificing dependability. Our product range is continually growing and we know what it takes to build "craftsmen style" products that look as good as they work. 
Upgrade your Jeep 258 Engine with the Mad4Metals 6061 Polished Aluminum CNC Fuel Pump Block Off Plate. Experience the reliability and durability that comes with our premium-grade materials and precise craftsmanship. Order now and take your engine to the next level of performance!
Reviews
Shipping
Installation Instructions
Application Guide
Application Guide
Application Guide
Application Guide
Application Guide
All in house custom made items are stocked in the US and typically ship one business day via USPS First Class Mail.
Estimated delivery for drop ship and made to order items will be stated in the product listing.
Block Off Plate Installation Instructions:
1. Thoroughly clean the engine block mounting surface and the block off plate so that both are free from grease, debris or other contaminates.
2. Use BrakLeen (Red Can) or equivalent as final cleaning step to prepare both surfaces.
3. Apply a thin layer of FORD Motorcraft Ultra-Gray Silicone Sealant or Hi-Temp Silicone Sealant (EGR Block off only) or equivalent to the back of the block off plate in contact with the sealing surface of the engine block.
4. If the bolt threads protrude into the crank case (i.e. are not blind tapped holes) apply a small amount of silicone sealant to the bolt threads.
5. Install block off plate to the engine and torque bolts per engine manufacture's recommendations.
(NOTE: Gaskets are not provided with the kit nor are they recommended. Two bolt mounting systems typically associated with mechanical fuel pumps, EGR valves and Intake manifold breather plates were not optimally located to provide even gasket compression around the sealing surface which is why they invariably leak. If you choose to use a gasket to seal a block off plate, apply a thin layer of silicone to both sides of the gasket.
AMC
4.8L 290 CID V8 1966-1969
5.0L 304 CID V8 1970-1979
5.6L 343 CID V8 1967-1969
5.9L 360 CID V8 1970-1978
6.4L 390 CID V8 1968-1970
6.6L 401 CID V8 1971-1976
BUICK
3.2L 198 CID V6 1962-1963
3.2L 198 CID V6 1962-1963
3.5L 215 CID V8 1961-1963
3.7L 225 CID V6 1964-1967
4.1L 248 CID L8 1937-1942, 1946-1950
4.3L 263 CID L8 1950-1953
4.4L 264 CID V8 1954-1955
4.9L 300 CID V8 1964-1967
5.0L 305 CID V8 1977-1991
5.2L 320 CID L8 1936-1942, 1946-1952
5.3L 322 CID V8 1953-1956
5.6L 340 CID V8 1966-1967
5.7L 350 CID V8 1992-1993
6.0L 364 CID V8 1957-1961
6.6L 401 CID V8 1959-1966
7.0L 425 CID V8 1963-1966
CADILLAC
1.8L 112 CID L4 1982
4.1L 252 CID V6 1980-1982
4.1L 252 CID V6 1980-1982
5.0L 305 CID V8 CHEVY 1991-1992
5.5L 331 CID V8 1949-1955
5.7L 350 CID V8 CHEVY 1990-1993
5.7L 346 CID V8 LH 1937-1942,1946-1948
6.0L 365 CID V8 1956-1958
6.9L 390 CID V8 1959-1963
7.0L 429 CID V8 1964-1977
CHEV/GMC/PONTIAC/OLDSMOBILE
1.8L 112 CID L4 1982
2.0L 121 CID L4 1983-1984
2.5L 151 CID L4 1978-1986
2.5L 153 CID L4 1962-1970
3.2L 194 CID L6 1962-1967
3.2L 196 CID V6 1978-1979
3.3L 200 CID V6 1978-1979
3.5L 216 CID L6 1937-1953
3.6L 217 CID L6 OHV (PUSHR) 1937-1945
3.8L 229 CID V6 1980-1984
3.8L 230 CID L6 1963-1970
3.8L 231 CID V6 1978-1987
3.9L 235 CID L6 1941-1963
4.1L 250 CID L6 1965-1984
4.3L 261 CID L6 1954-1962
4.3L 262 CID V8 1975-1976
4.3L 265 CID V8 1955-1957
4.4L 267 CID V8 1979-1982
4.7L 283 CID V8 1957-1967
4.8L 292 CID L6 1963-1989
5.0L 302 CID V8 1967-1969
5.0L 305 CID V8 1976-1995
5.0L 307 CID V8 1968-1973
5.3L 327 CID V8 1965-1968
5.4L 327 CID V8 1962-1969
5.7L 348 CID V8 1958-1961
5.7L 350 CID V8 1960-1995
5.7L 350 CID V8 DOHC 32V 1990-1991
6.0L 364 CID V8 1980-1998
6.2L 379 CID V8 DIESEL 1982-1993
6.5L 395 CID V8 DIESEL 1992-2002
6.6L 396 CID V8 1965-1970
6.6L 400 CID V8 1970-1980
6.6L 402 CID V8 1970-1972
6.7L 409 CID V8 1961-1965
7.0L 427 CID V8 1966-1969
7.0L 427 CID V8 1980-1998
7.4L 454 CID V8 1970-1990
CHRYSLER
2.5L 150 CID L4 SOHC 1988-1989
2.8L 170 CID L6 1961-1969
3.2L 198 CID L6 1970-1974
3.7L 225 CID L6 1960-1987
3.8L 230 CID L6 L HEAD 1960
3.9L 239 CID V8 1987-1990
4.0L 241 CID V8 1953-1956
4.2L 259 CID V8 1955-1956
4.4L 270 CID V8 1955-1956
4.5L 273 CID V8 1964-1969
4.9L 301 CID V8 1955-1957
5.0L 303 CID V8 OHV 1956
5.1L 312 CID V8 1973
5.2L 315 CID V8 1956-1958
5.2L 318 CID V8 1959-1990
5.3L 325 CID V8 1957-1958
5.3L 326 CID V8 1959
5.4L 331 CID V8 1954-1956
5.6L 340 CID V8 1968-1973
5.7L 350 CID V8 1958
5.8L 354 CID V8 1956-1958
5.9L 360 CID V8 1971-1990
5.9L 361 CID V8 1958-1966
6.3L 383 CID V8 1959-1971
6.4L 392 CID V8 1957-1958
6.6L 400 CID V8 1972-1978
6.8L 413 CID V8 1959-1974
7.0L 426 CID V8 WEDGE 1963-1970
7.0L 426 CID V8 HEMI 1964-1971
7.2L 440 CID V8 1966-1979
FORD
2.0L 122 CID L4 1983-1988
2.2L CC L4 1985-1986
2.3L 140 CID L4 SOHC 1974-1988
2.3L 140 CID L4 DIESEL 1985-1986
2.4L 144 CID L6 1960-1964
2.8L 170 CID L6 1960-1972
3.3L 200 CID L6 1964-1983
3.5L 215 CID L6 1951-1953
3.6L 221 CID V8 LHEAD 1962-1963
3.7L 223 CID L6 1954-1964
3.7L 225 CID L6 LHEAD 1941-1942
3.7L 226 CID L6 LHEAD 1946-1951
3.9L 239 CID V8 LHEAD 1948-1955
3.9L 239 CID V8 1948-1954
3.9L 240 CID L6 1965-1976
4.0L 240 CID L6 1965-1972
4.1L 250 CID L6 1969-1980
4.2L 255 CID V8 1949-1953, 1980-1982
4.2L 256 CID V8 1948-1955
4.3L 260 CID V8 1963-1964
4.5L 272 CID V8 1955-1958
4.7L 289 CID V8 1963-1968
4.8L 292 CID V8 1955-1964
4.9L 300 CID L6 1965-1987
5.0L 302 CID V8 1968-1987
5.0L 302 CID V8 BOSS 1969-1970
5.1L 312 CID V8 1956-1960
5.2L 317 CID V8 1952-1954
5.4L 330 CID V8 1975-1977
5.5L 332 CID V8 1958-1959
5.8L 351 CID V8 WINDSOR 1969-1987
5.8L 352 CID V8 1957-1967
5.9L 360 CID V8 1968-1976
6.0L 368 CID V8 1956-1957
6.1L 370 CID V8 1980-1991
6.3L 383 CID V8 1958-1960
6.4L 390 CID V8 1961-1976
6.6L 406 CID V8 1962-1963
6.7L 410 CID V8 1966-1967
6.9L 420 CID V8 DIESEL 1983-1987
7.0L 427 CID V8 1963-1968
7.0L 428 CID V8 1965-1970
7.0L 429 CID V8 1968-1991
7.0L 430 CID V8 1958-1965
7.3L 446 CID V8 DIESEL 1988-1995
7.5L 460 CID V8 1969-1987
7.6L 462 CID V8 1966-1968
7.8L 477 CID V8 1980-1981
8.8L 534 CID V8 1980-1981
INTERNATIONAL
2.5L 152 CID L4 1961-1970
3.2L 196 CID L4 1966-1980
3.6L 220 CID L6 1950-1971
3.8L 232 CID L6 1969-1971
3.9L 240 CID L6 1957-1962
4.0L 241 CID L6 1963-1970
4.2L 258 CID L6 1971-1974
4.3L 265 CID L6 1957-1970
4.4L 266 CID V8 1959-1970
5.0L 304 CID V8 1964-1980
5.7L 345 CID V8 1971-1985
6.4L 392 CID L8 1969-1985
6.6L 400 CID V8 1974
6.9L 420 CID V8 DIESEL 1984-1994
7.3L 444 CID V8 DIESEL 1987-1994
JEEP
5.0L 304 CID V8 1971-1981
5.7L 350 CID V8 1971
5.9L 360 CID V8 1971-1991
6.6L 401 CID V8 1974-1978
APPLICATION GUIDE
AMC
AMC 2.46L 150 CID L4 1983-1984
AMC 2.5L 151 CID L4 1980-1981
AMC 3.2L 196 CID L6 OHV 1965
AMC 3.3L 199 CID L6 1965-1970
AMC 3.8L 232 CID L6 1964-1979
AMC 4.2L 258 CID L6 1971-1988
BUICK
BUICK 1.8L 112 CID L4 OHV 1982
BUICK 2.5L 151 CID L4 1982-1986
BUICK 3.8L 231 CID V6 1975-1989
BUICK 4.1L 250 CID L6 1968-71, 1973-75
BUICK 4.1L 252 CID V6 1980-1984
BUICK 4.3L 265 CID V8 1980-1981
BUICK 4.4L 267 CID V8 1981-1982
BUICK 4.9L 301 CID V8 1977-1980
BUICK 5.7L 350 CID V8 DIESEL 1981
BUICK 5.7L 350 CID V8 1968-1981
BUICK 6.6L 400 CID V8 1967-1969
BUICK 7.0L 430 CID V8 1967-1969
BUICK 7.5L 455 CID V8 1970-1976
CADILLAC
CADILLAC 7.7L 472 CID V8 1968-1974
CADILLAC 8.2L 500 CID V8 1970,1972-76
JEEP
JEEP 2.2L 134 CID L4 1971
JEEP 2.2L 134 CID L4 F HEAD 1963-1970
JEEP 2.5L 150 CID L4 AMC DE 1983-2002
JEEP 2.5L 150 CID L4 GM DE 1980-1984
JEEP 2.5L 151 CID L4 1980-1983
JEEP 3.7L 225 CID V6 1966-1971
JEEP 3.7L 226 CID L6 L HEAD 1963-1966
JEEP 3.8L 230 CID L6 KAISER 1963-1970
JEEP 3.8L 232 CID L6 1965-1978
JEEP 4.0L 242 CID L6 1987-2006
JEEP 4.2L 258 CID L6 1971-1990
JEEP 5.7L 350 CID V8 BUICK 1969-1970
OLDSMOBILE
OLDSMOBILE 1.8L 112 CID L4 OHV 1982
OLDSMOBILE 2.5L 151 CID L4 1978-1986
OLDSMOBILE 3.5L 215 CID V8 1961-1963
OLDSMOBILE 3.5L 215 CID L6 LHD 1939
OLDSMOBILE 3.7L 225 CID V6 1964-1965
OLDSMOBILE 3.8L 231 CID V6 1975-1987
OLDSMOBILE 3.8L 230 CID L6 1937-1940
OLDSMOBILE 3.9L 238 CID L6 1941-1948
OLDSMOBILE 4.1L 250 CID L6 1966-1976
OLDSMOBILE 4.1L 252 CID V6 1981-1984
OLDSMOBILE 4.3L 265 CID V8 1958,1980
OLDSMOBILE 4.4L 267 CID V8 1981-1982
OLDSMOBILE 4.9L 301 CID V8 1979
OLDSMOBILE 5.0L 303 CID V8 1949-1953
OLDSMOBILE 5.3L 324 CID V8 1954-1956
OLDSMOBILE 5.7L 350 CID V8 1975-1979
OLDSMOBILE 6.1L 371 CID V8 1957-1960
OLDSMOBILE 6.5L 394 CID V8 1960-1964
OLDSMOBILE 6.6L 400 CID V8 1975
OLDSMOBILE 6.5L 394 CID V8 1960-1964
PONTIAC
PONTIAC 2.5L 151 CID L4 1977-1993
PONTIAC 3.2L 195 CID L4 1961-1963
PONTIAC 3.4L 208 CID L6 1935-1936
PONTIAC 3.5L 215 CID L6 1964-1965
PONTIAC 3.7L 223 CID L6 1933-1940
PONTIAC 3.8L 230 CID L6 1966-1967
PONTIAC 3.8L 231 CID V6 1977-1989
PONTIAC 3.8L 232 CID L8 1936
PONTIAC 3.9L 239 CID L6 1941-1954
PONTIAC 4.1L 249 CID L8 1937-1949
PONTIAC 4.1L 250 CID L6 1966-1979
PONTIAC 4.1L 252 CID V6 1982
PONTIAC 4.3L 262 CID V6 1955-1957
PONTIAC 4.3L 265 CID V8 1980-1989
PONTIAC 4.4L 268 CID L8 LHE 1950-1954
PONTIAC 4.7L 287 CID V8 OHV 1955
PONTIAC 4.9L 301 CID V8 1977-1981
PONTIAC 5.2L 317 CID V8 OHV 1956
PONTIAC 5.3L 326 CID V8 1963-1967
PONTIAC 5.7L 347 CID V8 OHV 1957
PONTIAC 5.7L 350 CID V8 1968-1980
PONTIAC 5.7L 350 CID V8 OLDS D 1970
PONTIAC 6.0L 370 CID V8 OHV 1958
PONTIAC 6.4L 389 CID V8 1959-1966
PONTIAC 6.6L 400 CID V8 1967-1979
PONTIAC 6.9L 421 CID V8 1961-1966
PONTIAC 7.0L 428 CID V8 1967-1969
PONTIAC 7.5L 455 CID V8 1970-1976
OLDSMOBILE 4.3L 260 CID V8 1975-1982
OLDSMOBILE 5.0L 307 CID V8 1980-1987
OLDSMOBILE 5.4L 330 CID V8 1964-1967
OLDSMOBILE 5.7L 350 CID V8 1968-1980
OLDSMOBILE 5.7L 350 CID V8 DIESEL 1978-1987
OLDSMOBILE 6.6L 400 CID V8 1965-1968
OLDSMOBILE 6.6L 403 CID V8 1977-1979
OLDSMOBILE 7.0L 425 CID V8 1965-1967
OLDSMOBILE 7.5L 455 CID V8 1968-1976
CADILLAC 5.0L 307 CID V8 1986
CADILLAC 5.7L 350 CID V8 1977- 1980
CADILLAC 5.7L 350 CID V8 DIESEL 1977-1985
CADILLAC 6.0L 368 CID V8 1980-1985
CADILLAC 7.0L 425 CID V8 1977-1979
CADILLAC 7.7L 472 CID V8 1969-1974
CADILLAC 8.2L 500 CID V8 1970-1976
OLDSMOBILE 4.3L 260 CID V8 1975-1982
OLDSMOBILE 5.0L 307 CID V8 1980-1987
OLDSMOBILE 5.4L 330 CID V8 1964-1967
OLDSMOBILE 5.7L 350 CID V8 1968-1980
OLDSMOBILE 5.7L 350 CID V8 DIESEL 1978-1987
OLDSMOBILE 6.6L 400 CID V8 1965-1968
OLDSMOBILE 6.6L 403 CID V8 1977-1979
OLDSMOBILE 7.0L 425 CID V8 1965-1967
OLDSMOBILE 7.5L 455 CID V8 1968-1976
Acura 2.5 TL 1995-1998
Acura Integra 1990-1991
Acura 1.8L 1834 CC L4 DOHC 16V 1992-1993
Acura 3.2 TL 1996-2006
Acura Legend 1986, 1988-1995
Acura 2.5L 2494 CC V6 1987
Acura 2.7L 2675 CC V6 1987
Acura 2.2 CL 1997
Acura 3.5 RL 2005-2006
Acura 3.0 CL 1997-1999
Acura 2.3 CL 1998-1999
Acura 3.2 CL 2001-2003
Acura 1.7 EL 2001-2005
Acura TSX 2004-2009
Acura 3.5L 3471 CC V6 SOHC 24V 2007-2013
Acura 2.4L 2354 CC L4 DOHC 16V I VT 2010-2013
Acura 3.7L 3664 CC V6 SOHC 24V 2009-2013
Acura 3.2L 3210 CC V6 SOHC 24V 2007-2008
Acura RL 2007-2012
Acura VIGOR 1992-1994
Acura MDX 2001-2013
Acura CSX 2006-2011
Acura RDX 2013
Acura ZDX 2010-2013
Acura ILX 2013
AMC 2.0L 121 CID L4 1977-1979
AMC 2.46L 150 CID L4 1983
AMC 3.8L 232 CID L6 1973-1979
AMC 4.2L 258 CID L6 1973-1984
AMC 5.0L 304 CID V8 1973-1979
AMC 5.9L 360 CID V8 1973-1978
AMC 6.6L 401 CID V8 1973-1976
BUICK 1.8L 110 CID L4 BRAZ SOHC 1982-1986
BUICK 1.8L 112 CID L4 OHV 1982
BUICK 2.5L 151 CID L4 1982-1992
BUICK 3.2L 196 CID V6 1978-1979
BUICK 3.8L 231 CID V6 1975-1987
BUICK 4.1L 252 CID V6 1980-1984
BUICK 5.7L 350 CID V8 DIESEL 1981
BUICK 5.7L 350 CID V8 1972-1981
BUICK 7.5L 455 CID V8 1972-1976
CADILLAC 4.1L 252 CID V6 1980-1982
CADILLAC 5.0L 305 CID V8 1990-1992
CADILLAC 5.7L 350 CID V8 1990-1993
CADILLAC 6.0L 368 CID V8 1980-1984
CADILLAC 7.0L 425 CID V8 1977-1979
CADILLAC 8.2L 500 CID V8 1976
CHEV/GMC 1.4L 85 CID L4 1976-1977
CHEV/GMC 1.6L 98 CID L4 SOHC 1976-1977, 1981-1986
CHEV/GMC 2.3L 140 CID L4 1975-1977
CHEV/GMC 2.5L 151 CID L4 1982-1993
CHEV/GMC 3.1L 189 CID V6 1992-1995
CHEV/GMC 3.8L 231 CID V6 1978-1987
CHEV/GMC 4.3L 262 CID V6 1985-1995
CHEV/GMC 4.3L 265 CID V8 1994-1996
CHEV/GMC 5.0L 305 CID V6 1987-1996
CHEV/GMC 5.7L 350 CID V8 1987-1997
CHEV/GMC 6.0L 366 CID V8 1991-1998
CHEV/GMC 7.0L 427 CID V8 1991-1998
CHEV/GMC 7.4L 454 CID V8 1991-1995
DATSUN 1.2L 1237 CC L4 1979-1982
DATSUN 1.4L 1397 CC L4 1979-1982
DATSUN 1.5L 1488 CC L4 SOHC 1979-1982
DATSUN 1.6L 1595 CC L4 SOHC 1969
DATSUN 2.4L 2393 CC L6 SOHC 1981-1983
DATSUN B210 1975-1978
DATSUN 810 1977-1980
DATSUN 200SX 1977-1979
DATSUN 240Z 1970-1973
DATSUN 260Z 1974-1975
DATSUN 720 1980
DATSUN 280Z 1975-1978
DATSUN 280ZX 1979-1983
DATSUN 310 1979-1981
DATSUN 510 1970-1973, 1978-1979
DATSUN 521 1970-1972
DATSUN 610 1973-1976
DATSUN 620 1972-1979
DATSUN 710 1974-1977
DATSUN F10 1976-1978
DATSUN STANZA 1982-1983
Honda 1.3L 1335 CC L4 1980-1983
Honda 1.3L 1342 CC L4 1984-1987
Honda 1.3L 1339 CC L4 HYB 2003-2011
Honda 1.5L 1493 CC L4 1988-1991
Honda 1.5L 1493 CC L4 SOHC 16V 1988-1995
Honda 1.5L 1493 CC L4 SOHC 8V 1992-1995
Honda 1.5L 1488 CC L4 1980-1987
Honda 1.5L 1497 CC L4 SOHC 16V 2007-2012
Honda 1.5L 1497 CC L4 HYBRID 2012
Honda 1.6L 1599 CC L4 1980-1983, 1985
Honda 1.6L 1590 CC L4 1988-1991
Honda 1.7L 1668 CC L4 VTEC SOHC 2001-2005
Honda 1.7L 1668 CC L4 VTEC-E SOHC1 2001-2005
Honda 1.7L 1668 CC L4 SOHC 16V 2001-2005
Honda 1.8L 1751 CC L4 1980-1983
Honda 1.8L 1829 CC L4 1984-1987
Honda 1.8L 1799 CC L4 SOHC 16V 2006-2013
Honda 2.0L 1998 CC L4 DOHC 16V I VT 2006-2011
Honda 2.0L 1955 CC L4 1985-1987
Honda 2.0L 1958 CC L4 1990-1991
Honda 2.1L 2056 CC L4 1990-1991
Honda 2.2L 2156 CC L4 1994-1997
Honda 2.2L 2156 CC L4 VTEC 1994-1997
Honda 2.2L 2157 CC L4 VTEC DOHC 1993-1996
Honda 2.3L 2259 CC L4 1992-1996
Honda 2.3L 2259 CC L4 VTEC 1998-2002
Honda 2.4L 2354 CC L4 DOHC 16V I VT 2002-2013
Honda 2.7L 2675 CC V6 1995-1997
Honda 3.0L 2997 CC V6 SOHC 24V 1998-2007
Honda 3.0L 2997 CC V6 HYBRID 2005-2007
Honda 3.5L 3471 CC V6 SOHC 24V 1999,2005-2015
INTERNATIONAL 4.2L 258 CID L6 1973-1974
INTERNATIONAL 6.6L 400 CID V8 1974
INTERNATIONAL 4.2L 258 CID L6 1974
ISUZU 5.7L 350 CID V8 GM DESIGN 1994-1995
JEEP 2.5L 150 CID L4 AMC DESIGN 1983-1985
JEEP 2.5L 151 CID L4 GM DESIGN 1984
JEEP 3.8L 232 CID L6 1974-1978
JEEP 4.2L 258 CID L6 1974-1990
JEEP 5.0L 304 CID V8 1974-1981
JEEP 5.9L 360 CID V8 1974-1987
JEEP 6.6L 401 CID V8 1974-1978
HUMMER 5.7L 350 CID V8 1995
OLDSMOBILE 1.8L 112 CID L4 OHV 1982
OLDSMOBILE 1.8L 110 CID L4 BRAZIL SOHC 1982-1986
OLDSMOBILE 2.3L 140 CID L4 1976-1977
OLDSMOBILE 2.5L 151 CID L4 1982-1992
OLDSMOBILE 3.1L 189 CID V6 OHV 1992-1994
OLDSMOBILE 3.8L 231 CID V6 1976-1987
OLDSMOBILE 4.1L 252 CID V6 1981-1984
OLDSMOBILE 5.7L 350 CID V8 1975-1976,1992
PONTIAC 1.4L 85 CID L4 1976-1977
PONTIAC 1.6L 98 CID L4 SOHC 1976-1977, 1981-1986
PONTIAC 1.8L 112 CID L4 OHV 1982
PONTIAC 1.8L 110 CID L4 BRAZIL SOHC 1982-1986
PONTIAC 2.3L 140 CID L4 1976-1977
PONTIAC 2.5L 151 CID L4 1982-1991
PONTIAC 2.8L 173 CID V6 1985-1988
PONTIAC 3.1L 189 CID V6 1992-1995
PONTIAC 3.8L 231 CID V6 1976-1987
PONTIAC 4.1L 252 CID V6 1981-1984
PONTIAC 4.3L 262 CID V6 1985-1987
PONTIAC 4.9L 301 CID V8 1980-1981
PONTIAC 5.0L 305 CID V8 1988-1992
PONTIAC 5.7L 350 CID V8 1975-1980,1992-1997
PORSHE 924 1977-1982
RENAULT 1.7L 105 CID L4 1985-1986
RENAULT 2.2L 2165 CC L4 1984
STERLING 825 1987-1988
STERLING 827 SERIES 1989-1991
SATURN 1.9L 116 CID L4 DOHC 1992
SATURN 3.5L 3471 CC V6 SOHC 24V 2004-2007
SATURN SC 1991-1992
SATURN SC2 1993-1994
SATURN SL2 1991-1994
SATURN SW2 1993-1994
SATURN VUE 2004-2007
NISAN ALTIMA 1993-2001
NISAN MAXIMA 1984
NISAN 2.0L 1998 CC L4 DOHC 1991-1993
NISAN STANZA 1983-1986
AVANTI II 1989-1991
EXCALIBUR LIMITED 1993
EXCALIBUR PHAETON 5.0L 305 CID V8 1989
EXCALIBUR PHAETON 5.7L 350 CID V8 1989
STUTZ DUPLEX 1973
BRICKLIN SV-1 1974