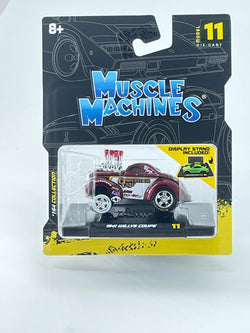 Muscle Machines 1941 Willys Coupe 1:64 Scale Diecast Car - Classic Collectible Model
Muscle Machines 1941 Willys Coupe 1:64 Scale Diecast Car - Classic Collectible Model
Description:
Discover the timeless beauty of the Muscle Machines 1941 Willys Coupe 1:64 Scale Diecast Car. This finely detailed replica of the iconic Willys Coupe is a must-have for diecast car enthusiasts and collectors alike. Crafted with precision and care, this collectible model showcases the spirit of a bygone era and will make an impressive addition to any car collection.
Bullet Points:
Exquisite Reproduction: Meticulously recreated in a 1:64 scale, this diecast car perfectly captures the classic look of the 1941 Willys Coupe.

Detailed Design: From the distinct front grille to the sleek curves, every aspect of this model showcases the essence of the vintage Willys Coupe.

Premium Diecast Construction: Crafted with high-quality diecast metal, this model car ensures durability and authenticity.

Realistic Paint Finish: The stunning paint finish adds a touch of realism, highlighting the car's exquisite design.

Compact Size: At 1:64 scale, this model is perfect for display in car collections, on desks, or in dioramas.

Rolling Wheels: Equipped with rolling wheels, this diecast car allows for smooth movement, making it an excellent addition to play or display.

Limited Edition: Be one of the lucky few to own this exclusive 1941 Willys Coupe diecast model, as it comes in a limited production run.

Gift-Ready Packaging: Presented in attractive packaging, this model makes a thoughtful and impressive gift for car enthusiasts of all ages.

Timeless Collectible: Embrace the nostalgia of a classic era with the Muscle Machines 1941 Willys Coupe, making it an invaluable addition to any car collection.
Bring home the charm and elegance of the 1941 Willys Coupe with this beautifully crafted 1:64 scale diecast model. Don't miss out on the chance to own this iconic piece of automotive history!