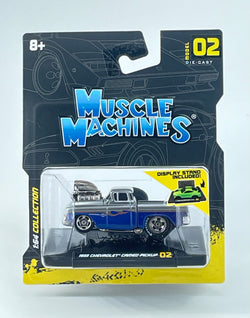 Muscle Machines 1955 Chevrolet Cameo Pickup 1:64 Scale Diecast Car - Classic Collectible
Muscle Machines 1955 Chevrolet Cameo Pickup 1:64 Scale Diecast Car - Classic Collectible Model
Description:
Relive the glory days of American automotive history with the Muscle Machines 1955 Chevrolet Cameo Pickup 1:64 Scale Diecast Car. This finely detailed replica of the iconic Cameo Pickup captures the essence of a classic era and is a must-have for diecast car enthusiasts and collectors. With its meticulous craftsmanship and nostalgic charm, this collectible model will make a stunning addition to any car collection.
Bullet Points:
Iconic Design: This 1:64 scale diecast car beautifully recreates the timeless look of the 1955 Chevrolet Cameo Pickup, an emblem of vintage American truck heritage.

Intricate Details: From the distinct front grille to the meticulously designed cargo bed, every aspect of this model showcases the allure of the classic Cameo Pickup.

Premium Diecast Construction: Crafted with precision from high-quality diecast metal, this model car guarantees durability and authenticity.

Realistic Paint Finish: The captivating paint finish accentuates the vintage design, adding to the overall appeal of this collectible piece.

Compact and Display-Ready: Measuring at 1:64 scale, this model is perfect for showcasing on shelves, display cases, or creating nostalgic dioramas.

Rolling Wheels: Equipped with rolling wheels, this diecast car offers interactive playability and seamless display mobility.

Limited Edition Release: This 1955 Chevrolet Cameo Pickup diecast model is part of a limited production run, making it a rare and highly sought-after treasure for collectors.

Gift of Nostalgia: Packaged in an attractive box, this model makes a perfect gift for vintage car enthusiasts and collectors of all ages.

Preserve Automotive Heritage: Own a piece of automotive history with the Muscle Machines 1955 Chevrolet Cameo Pickup, representing the enduring legacy of classic American trucks.
Embrace the nostalgia of the 1955 Chevrolet Cameo Pickup with this exquisitely crafted 1:64 scale diecast model. Don't miss the chance to add this iconic vintage truck to your prized collection!