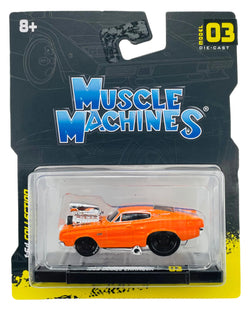 Muscle Machines 1966 Dodge Charger Hemi 1:64 Scale Diecast Car - Classic Collectible
Muscle Machines 1966 Dodge Charger Hemi 1:64 Scale Diecast Car - Classic Collectible Model
Description:
Relive the golden era of muscle cars with the Muscle Machines 1966 Dodge Charger Hemi 1:64 Scale Diecast Car. This finely detailed replica of the iconic Charger Hemi captures the power and style of a classic American muscle car. A must-have for diecast car enthusiasts and collectors, this model showcases the timeless appeal of the legendary Charger Hemi.
Bullet Points:
Iconic Design: This 1:64 scale diecast car beautifully recreates the legendary look of the 1966 Dodge Charger Hemi, a symbol of raw power and vintage American muscle.

Intricate Details: From the distinctive front grille to the muscular body lines, every aspect of this model showcases the timeless allure of the Charger Hemi.

Premium Diecast Construction: Crafted with precision from high-quality diecast metal, this model car ensures durability and authenticity.

Realistic Paint Finish: The glossy paint finish accentuates the vintage design, adding to the overall appeal of this collectible piece.

Compact and Display-Ready: Measuring at 1:64 scale, this model is perfect for showcasing on shelves, display cases, or even creating nostalgic dioramas.

Rolling Wheels: Equipped with rolling wheels, this diecast car offers interactive playability and smooth mobility for display purposes.

Limited Edition Release: This 1966 Dodge Charger Hemi diecast model is part of a limited production run, making it a rare and sought-after gem for collectors.

Gift of Nostalgia: Packaged in an attractive box, this model makes a perfect gift for muscle car enthusiasts and collectors of all ages.

Preserve Automotive Heritage: Own a piece of automotive history with the Muscle Machines 1966 Dodge Charger Hemi, a testament to the enduring legacy of classic American muscle cars.
Capture the essence of the 1966 Dodge Charger Hemi with this exquisitely crafted 1:64 scale diecast model. Don't miss the opportunity to add this iconic vintage muscle car to your prized collection!