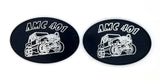 Custom Aluminum Car Badge Emblem Jeep CJ Series 401 Graphic - USA - Lot of 2
Custom Aluminum Car Badge Emblem with Jeep CJ Series 401 Graphic - Made in the USA - Lot of 2
Product Description:
Elevate Your Vehicle's Style with our Custom Aluminum Car Badge, showcasing the Iconic Jeep CJ Series 401 Graphic. Crafted with Precision in the USA, this emblem is a Tribute to Automotive Excellence and American Craftsmanship.
Key Features:
Unrivaled Customization: Stand out with our Exclusive Custom Aluminum Car Badge. It's more than just a badge; it's an embodiment of your unique style and your appreciation for the legendary Jeep CJ Series.

Jeep CJ Series 401 Graphic: Relive the Adventure with the Captivating Jeep CJ Series 401 Graphic. Every detail captures the spirit of the iconic Jeep CJ Series and its powerful 401 engine.

Craftsmanship Excellence: Proudly made in the USA, this emblem embodies the precision and innovation that define American manufacturing. Crafted from high-quality aluminum, it's a perfect blend of artistry and durability.

Effortless Installation: Say goodbye to complicated installations. Our adhesive tape ensures a hassle-free process, keeping your badge securely in place as you hit the road.
Dimensions: Perfectly Sized for a Bold yet Refined Enhancement to Your Vehicle's Aesthetics.

Material: Premium Aluminum that offers durability and a sleek appearance, enhancing your car's overall look.

Graphic: Jeep CJ Series 401 Graphic that captures the spirit of adventure and celebrates the legacy of Jeep's rugged engineering.

Origin: Proudly Crafted in the USA, supporting local craftsmanship and celebrating the spirit of American automotive greatness.

Built to Last: Engineered to Withstand Diverse Weather Conditions, ensuring it maintains its captivating appearance for years.

Universal Fit: Designed for Seamless Integration on a Range of Vehicles, preserving your car's individuality.
Elevate your vehicle into a tribute to the spirit of off-road adventure. Enhance your ride's aesthetics and make a statement that resonates with tradition, style, and a touch of nostalgia. Order your Custom Aluminum Car Badge with Jeep CJ Series 401 Graphic today and let your ride tell the story of American automotive heritage.
Click "Add to Cart" now and experience the satisfaction of owning a personalized work of automotive art!
Material: 6061 Billet Aluminum
Fasteners: None (Glue or Adhesive Req'd)
Mfr PN: E6034
Mad4Metal aluminum custom fender, hood, valve cover, emblem badges are extremely light weight and have been designed to compliment classic car, muscle car, rat rod or off road vehicle. Aluminum does not rust and the anodized finish can easily is tough and durable.
Mad4Metal strives to provide the highest quality products available. We design, build and test our parts here in the USA to ensure our customers get that one of a kind look without sacrificing dependability. Our product range is continually growing and we know what it takes to build "craftsmen style" products that look as good as they work. 
 Features:
Sexy pieces that can be used to dress up your engine compartment, fenders, doors, hood, valve covers, note books or any other flat surface.

Completely custom one of kind proprietary graphics. 
We quote custom designs upon request.
100% designed and manufactured in the USA
Specifications:
Material:

 

6061 aircraft grade billet aluminum
Finish: Black anodized with machine marks visible
Installation:

 These are glue on badges, we recommend using auto trim adhesive purchased from your local auto parts store. 

Pro Tip:  If badges are to be used outdoors in a UV environment we recommend coating these with a UV protective clear coat to prevent fading. Clear coat can be purchased at any automotive or hardware store and sprayed directly over the anodize coating. (Clean badges prior to clear coating.)
Height:  2" 
Width:

 

3" 
Thickness:

 

3/16" 
Weight:

 2.0

 oz
All in house custom made items are stocked in the US and typically ship one business day via USPS First Class Mail.
Estimated delivery for drop ship and made to order items will be stated in the product listing.