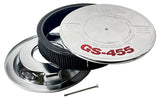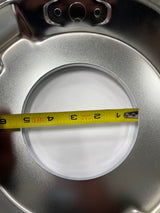 Custom Polished Aluminum 14" Round Air Cleaner fits 455 Buick GS Stage1 Engine
Custom Polished Aluminum 14" Round Air Cleaner fits 455 Buick GS Stage 1 Engine - Made in USA
Description:
Elevate the performance and aesthetics of your Buick GS Stage 1 engine with our premium Custom Polished Aluminum 14" Round Air Cleaner. Engineered to seamlessly fit the 455 engine, this air cleaner delivers optimal airflow for enhanced engine function. Crafted from high-quality polished aluminum, it adds a touch of sophistication to your vehicle's engine bay. Proudly made in the USA, this air cleaner embodies quality and precision.
Bullet Points:
Enhance Performance: Tailored for the 455 Buick GS Stage 1 engine, this air cleaner maximizes air intake, contributing to improved engine performance.

Sleek Polished Finish: The polished aluminum finish provides both durability and aesthetic enhancement, elevating the look of your engine bay.

Durable Aluminum Build: Crafted from premium aluminum, this air cleaner is designed to withstand engine demands while ensuring long-lasting use.

Optimal Airflow: The 14" round design is engineered to deliver efficient airflow, promoting effective combustion and enhanced engine efficiency.

Easy Installation: Designed for easy installation, this air cleaner is a straightforward upgrade for your Buick GS Stage 1 engine.

Made in the USA: Proudly manufactured in the United States, this air cleaner reflects the finest craftsmanship and attention to detail.

Seamless Fit: Designed to perfectly align with the 455 engine, this air cleaner seamlessly integrates with your Buick GS Stage 1, adding a customized touch.

Performance and Elegance: Experience the fusion of improved engine functionality and a refined engine bay appearance with this air cleaner.

Enhance Vehicle Value: Elevate the value of your Buick GS Stage 1 with a custom air cleaner that combines performance and visual appeal.

Thoughtful Gift: Whether for a car enthusiast or as a practical upgrade, the Custom Polished Aluminum 14" Round Air Cleaner is a thoughtful and impactful gift.
Transform your Buick GS Stage 1 engine with the Custom Polished Aluminum 14" Round Air Cleaner. Designed to optimize both performance and aesthetics, this air cleaner delivers improved airflow and a sophisticated engine bay look. Proudly made in the USA, it showcases the excellence of American craftsmanship and quality.
Material: Aluminum
Bolts: 1 included
Finish: Lightly 
Polished (Not a show car polish but a really nice finish)
Mad4Metal universal aluminum custom air cleaners begin life as standard universal import components. Mad4Metal creates custom graphics and CNC engrave each unit in our shop here in the USA. We choose aluminum as it does not rust and the polished finish can easily be brought back to its original luster with aluminum metal polish.
Mad4Metal strives to provide the highest quality products available. We design, build and test our custom parts here in the USA to ensure our customers get that one of a kind look without sacrificing dependability. We also import high quality aluminum castings and apply our unique graphics to yield "affordable" one of kind craftsmen style products. Our product range is continually growing and we know what it takes to build "craftsmen style" products that look as good as they work. 
Features:
Universal high quality air cleaner base and top to replace the factory air cleaner.
High quality aluminum base and top.
Includes 1X - 14" x 3" tall "washable" life time air cleaner element.
Includes 1X 1/4-20 x 5" long flat socket head chrome hold down bolt.
Fits most carburetors with 5-1/8" opening. 
Please Note: The top exterior surfaces are lightly polished pieces but they are not triple sanded and polished to show car quality standards. these look great from 3ft of more away.  There may some small packaging blemishes, scuffs etc from rubbing against packaging materials during shipment and or other minor surface defects that can easily be polished out. 
Specifications:
Height =  4-1/4" from base of mounting flange to top of air cleaner".
Width =14"
Length = 14"
Air cleaner element thickness = 3"
Weight = 4lb 10 oz.
Application:
This air cleaner will fit most stock and aftermarket carburetors with a 5-1/8'' diameter carb neck like most Carter, Edelbrock, Holley, Rochester, and Quadrajet four barrel carburetors.
Please check hood clearance prior to ordering, may not work with some high rise intake manifolds. NOTE: with a 3" thick oval air cleaner, unit measures approximately 2" from carb gasket mounting flange to top of air cleaner. Note: Air cleaner base is recessed (include the thickness of mounting flange gasket in your hood clearance calculation)