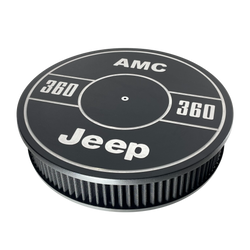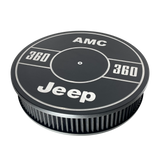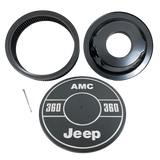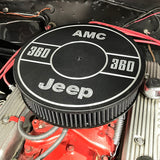 Custom Black 14" Round Cast Aluminum Air Cleaner fits AMC Jeep 360 Engines
Custom Black 14" Round Cast Aluminum Air Cleaner for AMC Jeep 360 Engines - Made in USA
Description:
Upgrade your AMC Jeep 360 engine with our top-quality Custom Black 14" Round Cast Aluminum Air Cleaner. Engineered to fit seamlessly, this air cleaner enhances both performance and aesthetics. Crafted from durable cast aluminum, it ensures longevity while adding a bold touch to your vehicle's engine bay. Proudly made in the USA, this air cleaner combines form and function to elevate your Jeep 360 experience.
Bullet Points:
Enhance Performance: Designed for AMC Jeep 360 engines, this air cleaner optimizes air intake for improved engine performance.

Sleek Black Finish: The black finish adds a touch of boldness to your engine bay, complementing the aesthetic of your AMC Jeep.

Durable Cast Aluminum Build: Crafted from high-quality cast aluminum, this air cleaner is built to withstand engine demands while offering lasting use.

Optimal Airflow: The 14" round design is engineered for efficient airflow, promoting better combustion and engine efficiency.

Easy Installation: Designed for easy installation, this air cleaner is a hassle-free upgrade for your AMC Jeep 360 engine.

Made in the USA: Proudly manufactured in the United States, this air cleaner represents the finest craftsmanship and attention to detail.

Customized Fit: Tailored to fit AMC Jeep 360 engines, this air cleaner integrates seamlessly with your vehicle, adding a personalized touch.

Performance and Style: Experience the synergy of improved engine function and an enhanced engine bay aesthetic with this air cleaner.

Enhance Vehicle Value: Elevate the value of your AMC Jeep by investing in a custom air cleaner that combines performance and visual appeal.

Ideal Gift: Whether for a Jeep enthusiast or as a practical upgrade, the Custom Black 14" Round Cast Aluminum Air Cleaner is a thoughtful and impactful gift.
Elevate your AMC Jeep 360 with the Custom Black 14" Round Cast Aluminum Air Cleaner. Designed for performance and styled for impact, this air cleaner enhances both your vehicle's function and visual appeal. Proudly made in the USA, it's a testament to quality craftsmanship and attention to detail.
Material: Aluminum
Bolts: 1 included
Finish: Black Powder Coating with CNC Ball End Mill Deep Engraving
Mad4Metals universal aluminum custom air cleaner assemblies begin life as a standard universal assembly which includes flat top, paper element, base and hold down screw. 
We custom CNC engrave each unit to create a one of a kind craftsman style air cleaner assembly right here in our shop in the USA. 
Mad4Metal strives to provide the highest quality products available. We design, build and test our custom parts here in the USA to ensure our customers get that one of a kind look without sacrificing dependability. Our product offerings are continually growing as we strive to build "craftsmen style" products that look as good as they work. 
Features:
Custom one of a kind graphics to capture the true essence of the muscle car era.
CNC Milled Deep Engraving 
High quality aluminum top and steel base.
Includes 1X - 14" x 3" "washable" life time Air Cleaner Element.
Includes 1X 1/4-20 x 5" long flat socket head chrome hold down bolt.
Fits most carburetors with 5-1/8" opening. 
Please Note: The top exterior surfaces outside the graphics area come powder coated from the factory. There may be small localized blemishes and fading.
Specifications:
Height =  4-1/4" from base of mounting flange to top of air cleaner".
Width =14"
Length = 14"
Air cleaner element thickness = 3"
Weight = 4lb 10 oz.
Application:
This air cleaner will fit most stock and aftermarket carburetors with a 5-1/8'' diameter carb neck like most Carter, Edelbrock, Holley, Rochester, and Quadrajet four barrel carburetors.
Please check hood clearance prior to ordering, may not work with some high rise intake manifolds. NOTE: with a 3" thick oval air cleaner, unit measures approximately 2" from carb gasket mounting flange to top of air cleaner. Note: Air cleaner base is recessed (include the thickness of mounting flange gasket in your hood clearance calculation)