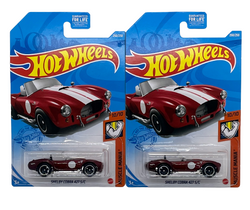 Red Mattel Hot Wheels Muscle Mania Shelby Cobra 427 S/C - Diecast Car (2X)
Red Mattel Hot Wheels Muscle Mania Shelby Cobra 427 S/C - Diecast Car Collectible - Lot of 2
Description:
Experience the thrill of classic muscle power with the red Mattel Hot Wheels Muscle Mania Shelby Cobra 427 S/C. This iconic diecast car brings the legendary Shelby Cobra to life in stunning detail. Perfect for both diecast car enthusiasts and collectors, this model captures the spirit of the roaring American muscle era.
Bullet Points:
Iconic Design: This diecast car flawlessly replicates the powerful look of the Shelby Cobra 427 S/C, a timeless symbol of American muscle performance.

Vivid Red Finish: The striking red paint finish highlights the Cobra's curves and lines, adding to the car's allure as a true collectible.

Detailed Interior: Peek inside to find a meticulously designed interior that captures the essence of the era, showcasing the attention to detail.

Precision Craftsmanship: Crafted by Mattel Hot Wheels, known for their quality, this model boasts precision construction and authenticity.

Rolling Wheels: The model features rolling wheels for interactive play or dynamic display, making it perfect for both collectors and kids.

Collector's Dream: An essential addition to any diecast car collection, this Muscle Mania Shelby Cobra is a collector's dream come true.

Official Licensed Product: As an officially licensed product, you can trust the accuracy and authenticity of this Shelby Cobra replica.

Gift of Muscle Heritage: Packaged in an attractive box, this diecast car makes an ideal gift for car enthusiasts, collectors, and kids alike.

Capture the Muscle Era: Own a piece of automotive history with the Mattel Hot Wheels Muscle Mania Shelby Cobra 427 S/C, capturing the spirit of the muscle car era.
Experience the raw power of the Shelby Cobra with the red Mattel Hot Wheels Muscle Mania Shelby Cobra 427 S/C. Don't miss the chance to add this iconic American muscle car to your collection or gift it to someone who appreciates the thrill of the road!
Why Mad4Metals?
We physically inspect and custom package every item we sell at order fulfillment vs. a fulfillment center model of "blindly" shipping uninspected products pre-packaged by the manufacturer. 
We use only new packing materials which consist of corrugated boxes, interior bubble wrap and/or air pillows to make sure your items arrive safe and sound.
We are a small family owned and operated business so the quality of our products and our superior customer service are the life blood of our business. Check out our feedback score. 
We too are car collectors of both full size vintage muscle cars as well as die cast collectable scale models.