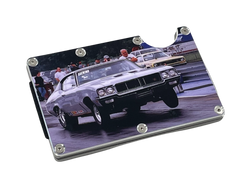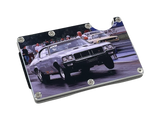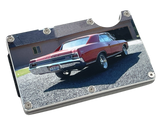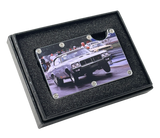 Personalized RFID Aluminum Wallet & Money Clip with Your Image or Logo - USA
Personalized RFID Aluminum Wallet & Money Clip with Your Image or Logo - USA
Mad4Metal's custom aluminum RFID blocking credit card wallet money clip custom printed with your personal or business graphics, logos or photographs. Immortalize that special event or favorite memory to relive it every time you look at this gorgeous wallet!
Finish: Sublimation printed graphics on "high gloss" aluminum substrate resulting in a hard glossy finish.
Mad4Metals custom wallets begin life as custom cnc aluminum blanks with a high gloss coating to facilitate sublimation printing directly into the aluminum. Our graphics "are not decals or stickers"; The resulting finish is a hard coating that cleans very easily with glass cleaner. 
Mad4Metal will add your custom graphic, image or photograph to our wallet template to capture that special memory or event. Simply send us a graphic, image or photograph and let us create a unique personalized one of a kind piece of artwork. 
(Due to the custom nature of these products please allow 2-4w for shipping)
We print, prep ad assemble each unit locally here in the USA. We choose aluminum metal printing as it results in photograph quality, awesome looking, long lasting artifacts that will look as good ten year years from now as they do the day they were made. 
Mad4Metal strives to provide the highest quality products available. We design, build and test our custom parts here in the USA to ensure our customers get that one of a kind look without sacrificing dependability.  Our product range is continually growing and we know what it takes to build "craftsmen style" products that look as good as they work. 
Features:
Durable aluminum design with photo quality printing and graphics
Stainless steel money clip which can easily be removed and reinstalled as required

Stainless steel decorative perimeter screws

RFID blocking to secure your personal information

Holds up to 10 credit cards and 1/4" of folded bills
Made in the USA
Specifications:
Size: 3" x 2 " Weight: 4 oz.

Material: Aluminum

3/4" diameter thumb notch 
Internal elastic stretch band to tightly hold cards
Application:
Personal or business cards 
Credit cards
Currency
Reviews
Shipping
FAQ/Instructions
All in house custom made items are stocked in the US and typically ship one business day via USPS First Class Mail.
Estimated delivery for drop ship and made to order items will be stated in the product listing.
FAQ
My credit card wallet money clip seems tight and it is difficult to insert credit cards, is this normal? YES - These wallets incorporate an elastic band to sandwich up to 12 credit cards. The band is a bit tight at first but breaks in nicely with just a little use.
Can I use the money clip to clip the wallet onto my belt or sun-visor? NO - the money clip is for holding a reasonable amount of cash only (1/4" Max.). If you use the clip for anything other than holding cash or business cards the clip will break.
Are these products manufactured in the USA? The base units are manufactured to our specifications and imported from China. Units displaying custom graphics are disassembled at our shop and custom CNC engraved here in the USA. Most engraved models are upgraded with brand new 18-8 stainless steel screws.
Can I get replacement parts should some portion of the wallet malfunction or break? YES - we stand behind our products and offer a 30 day money back guarantee. We also reserve the right to send out replacement parts at no cost after the 30 day period!